 The Ultimate Athlete ID Solution
In the world of competitive sports, every second counts, and any distraction can make the difference between victory and defeat. Athletes are always on the lookout for ways to streamline their race day experience and maximize their performance.
When Sportstiks was founded in 2007 we revolutionised the game with high quality, customisable race ID. Sportstiks MD, Steve Baker then came up with the idea of using temporary tattoos for triathlon body marking after being unimpressed by results of using a sharpie pen. And the rest was history…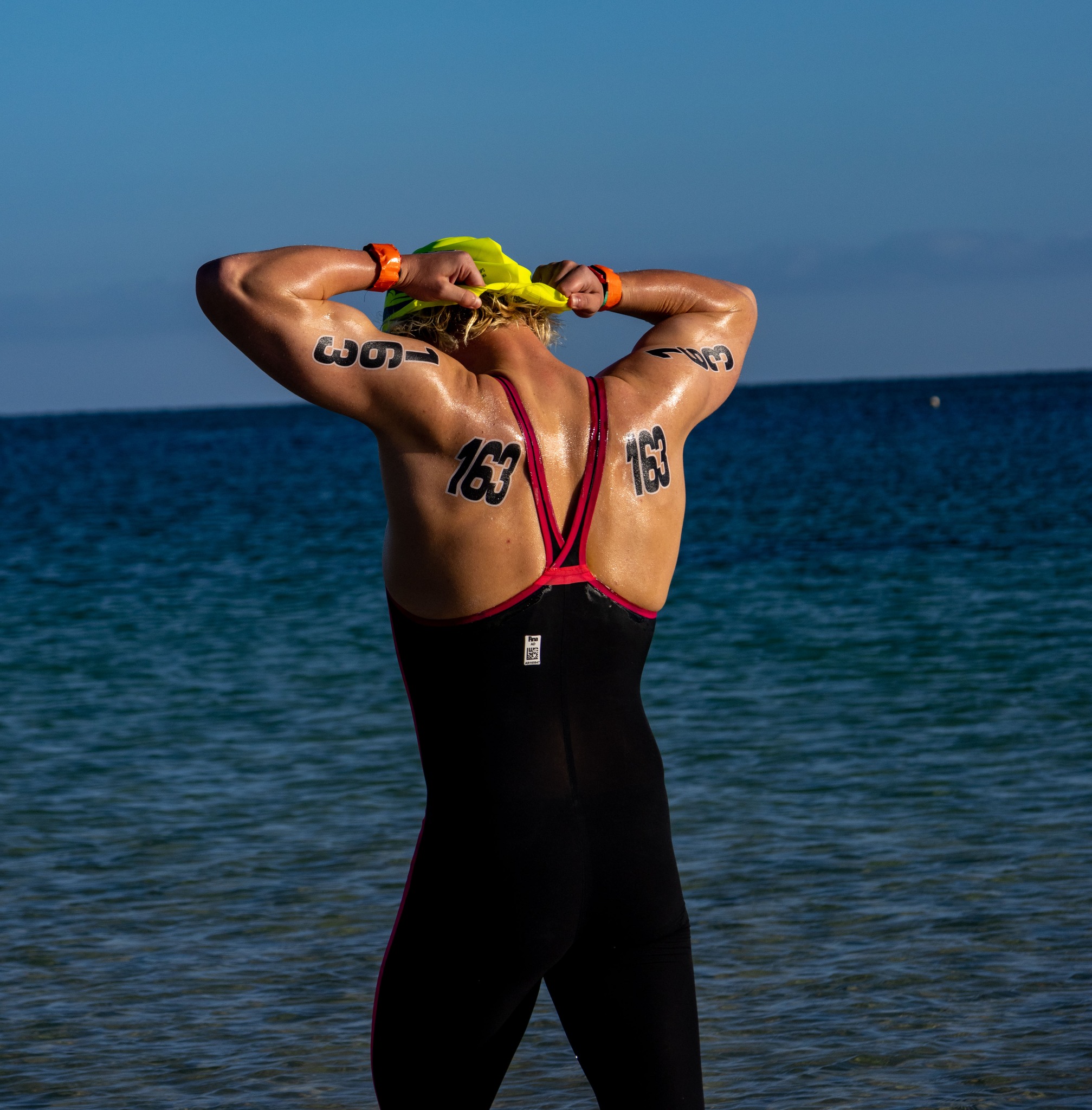 The Traditional Race Bib: The Setbacks
For decades, the traditional race bib has been the go-to method for identifying athletes in various sporting events, from marathons to triathlons. They are a simple but effective athlete ID, however it's not without its drawbacks. For a triathlon, athletes will often either wear a bib underneath their wetsuit or attach a bib to a shirt before putting it on, to avoid slowing down their transition. Both 'fixes' still require some careful manoeuvring when the athlete is changing for their next leg of the race, which wastes valuable time. With a race number tattoo, that is a thing of the past.
Race Number Tattoos: The Future of Athlete Identification
Sportstiks race number tattoos, are quickly becoming the go-to choice for race directors and athletes for several compelling reasons:
Clear and Uniform: Our tattoos provide a clear and uniform appearance, especially in comparison to using pen for body markings. They remove any of risk of unclear numbers due to different handwriting. Sportstiks tattoos also have a white border around them, meaning that they are clear on all skin tones, unlike pen.
Customisable: Sportstiks number tattoos can be customised with your event or sponsor logos, offering a unique branding opportunity for event organisers. We can also incorporate your brand colours or a QR code. Whatever you have in mind let us know.
Comfort and Convenience: Unlike traditional bibs, race number tattoos are applied directly to the skin, eliminating the need for pins or clips. Athletes can focus solely on their performance without worrying about the discomfort or distraction caused by a flapping bib.
Waterproof and Sweatproof: Regardless of the weather conditions, our race number tattoos stay intact. Rain, sweat, or an open water swim won't smudge or wash it away. This reliability ensures accurate race timing and minimizes the risk of disqualification due to obscured bibs. It also makes it the perfect athlete ID for triathlons, as it is suitable for every part of the race.
Multi-purpose: We also produce tattoos that can also be applied to wetsuits and swim caps. This works great for open water swim triathlons or events where a full-length wetsuit may be needed. They can easily be removed with our tattoo removal wipes.
Long-Lasting: These tattoos are designed to stay put throughout the race; some athletes even keep them on longer as a badge of honour. However, they can be easily removed afterwards, leaving no residue or damage to your skin or wetsuit.
As athletes and organisers continually seek ways to improve their performance and race experience, race number tattoos emerged as a game-changing innovation. They offer unmatched reliability and clear identification, while also making athletes feel like pros.
Whether you're organising a triathlon, an open water swim or running event. Embrace our revolutionary athlete ID solution and experience firsthand how it can improve and streamline your race day experience. Elevate your event with race number tattoos from Sportstiks.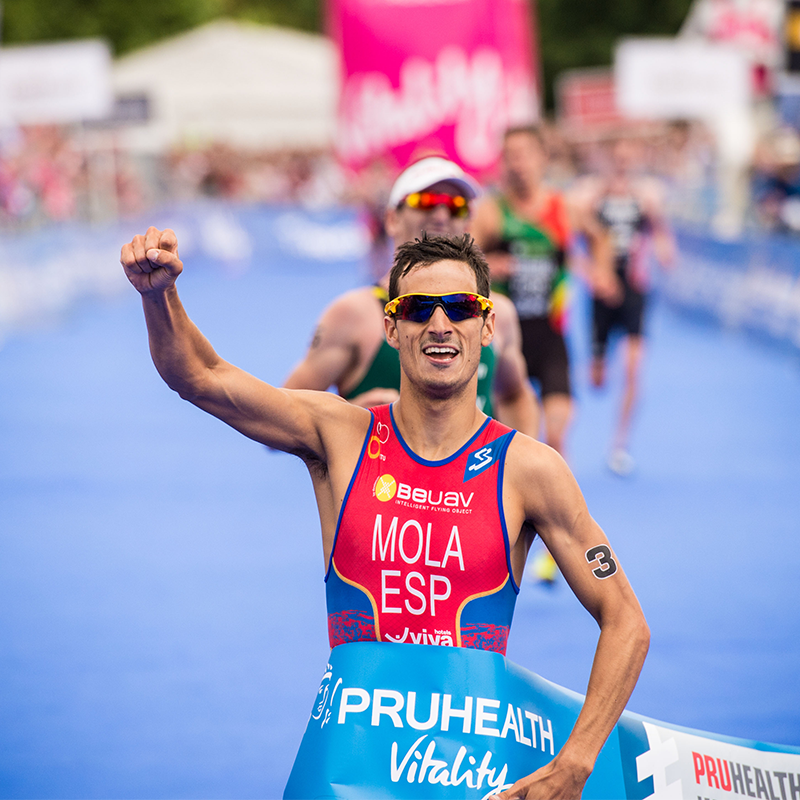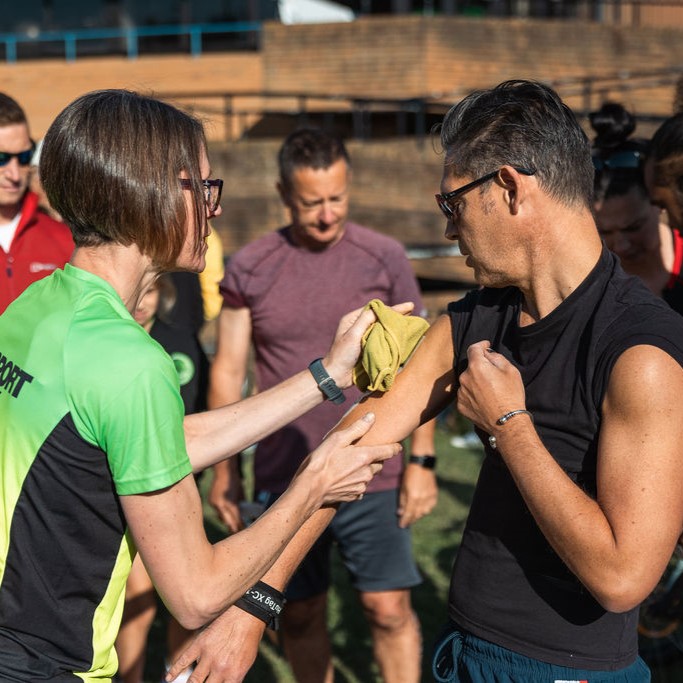 Applying Race Number Tattoos: Easy and Effortless
Applying race number tattoos is a straightforward process, all you need is a wet cloth. Our tattoos have clear instructions on the back that are easy to follow. Some events offer on-site assistance as a helping hand to athletes and to ensure accurate placement, but clear communication between the organisers and participants can also achieve this. At the end of event, they can be easily removed with our wipes or baby oil, making it a hassle-free experience from start to finish.
We innovate. Others imitate.
We are the original athlete ID provider. You can trust us to provide high quality products and great service. Get in touch to level up your event.